Free gym membership for disabled citizens offers an opportunity to get their dream physique. Try these sources to get one for yourself.
While disability can hamper a lot in life, it will never hamper your fitness. Gym enthusiasts suffering from a disability can now easily get free access to gym facilities. With a free gym membership for disabled, these citizens can avail all the facilities offered by fitness centers.
Not only disabled citizens but also disabled veterans are offered free membership to maintain their physique after being retired from the service.
Free Gym Membership For Disabled: An Overview
Not every gym would be disability prone; you need to look for clubs that house disability-friendly equipment.
You can reach out to top-notch organizations to get a free gym membership for disabled citizens.
Disabled veterans can also get the facility of a free gym; they need to look at the right places.
Sources That Offer Free Gym Membership For Disabled
A fitness center that meets the need of the disabled can be a tough job. A more challenging job is to find a center that offers free gym membership for disabled citizens. Not every gym offers free membership, while others might not suit their needs.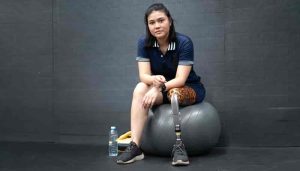 Here's a list of a few sources offering such citizens required assistance to gain free gym membership.
The Challenged Athletes Foundation
CAF offers grants and scholarships to citizens with disabilities. These grants include gym membership funding, equipment grants, and others. However, there are a few eligibility criteria that you need to fulfill to get the benefits of these grants.
If your disability has impaired mobility, affected the neuromuscular system, impaired balance, or your motor control, you are eligible for these gym grants. The organization uses the International Paralympic Standards to provide the grants.
The applicants must submit all the necessary medical documents supported by a medical professional to get financial help. Hearing impairments, intellectual impediments, and developmental disabilities are not eligible for these grants.
This organization may not directly provide you with a gym membership. Still, it can offer you an opportunity to indulge in various sports and fitness activities through its local chapters and community associations.
The program is offered by 120 local chapters in collaboration with Disabled Sports USA. They also administer a Warfighter Sports program that enables wounded war heroes to heal through sports rehabilitation in military hospitals and community centers.
National Center on Health, Physical Activity and Disability (NCHPAD)
The organization is an open field for citizens who require assistance in the fitness field. It promotes physical well-being for the disabled. They achieve this by providing numerous facilities, one of which is information.
Information on nearby gyms, yoga centers, aerobics classes, and others that are suitable for the specially-abled. These facilities might not offer a free gym membership for disabled people, but you can always check with the respective fitness clubs if there are any other ways they can offer financial assistance.
Read Also: 23 Free Gym Membership For Low-Income Individuals
Local Disability Support Organizations
You can reach out to your local disability support organizations or organizations that advocate disability rights to get assistance. Organizations like the AAPD, DRC, Scope, and others are national foundations that speak up for the rights of the disabled.
Such organizations can offer you sources that provide affordable memberships. Often these institutes work in collaboration with local gyms and fitness centers. These clubs can provide you with inclusive services at affordable prices. Some may also offer it free of cost.
Corporate Wellness Programs
Corporate Wellness Programs are fitness programs offered by top MNCs. These programs are for the employees of the company. Keeping the happiness of employees in mind, these programs are introduced. Corporate Giants like Microsoft, Google, Intel, and Johnson & Johnson offer these programs to their employees.
Different employers offer different facilities through these programs. You can check with your employer to see if they offer these benefits. If you are an employer, you can look for firms that offer such wellness programs.
Fitness Centers With Free Gym Membership For Disabled Veterans Programs
Veterans have a special place in society. They are offered special facilities to honor their sacrifices for the service they provide to the nation. One such unique facility is a free gym membership for disabled veterans.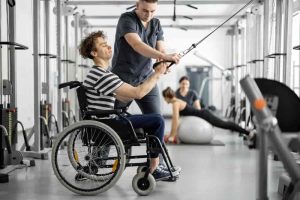 This facility is offered in a few fitness clubs that also offer equipment suitable to the needs of the disabled. Here are a few fitness centers that can assist you.
Military gyms are free for veterans and those still offering their services. Keeping fit can keep veterans away from a lot of stress. It is difficult to leave behind military life – this change can bring a lot of anxiety. Maintaining the physique can help release anxiety.
Not only that, but being a military person or a war veteran can get you free memberships at several places and affordable ones at others.
The Y is one such place that offers free gym membership for disabled veterans. Veterans and their families both are eligible for no-cost gym facilities through their assistance programs. You can visit the gym in your vicinity to gather more details.
The fitness club also offers free facilities to military men serving in the force—the Department of Defense's Armed Services YMCA Military Outreach Initiative is the program for them and their families.
YouFit doesn't offer free facilities, but it surely does offer a 20% discount on membership charges with no contract required. The club offers personal training, nutritional counseling, and on-demand workout classes.
However, this facility is only provided by 10 YouFit gyms in the southern and eastern states. Other than these, the discount and membership charges may vary from location to location.
With over 400 gyms in the United States, Crunch Fitness offers a 7-day free trial pass. These passes are offered to Military men; they need to take their IDs along with them to you can get themselves verified through ID.me.
The website lets you explore all the viable options for affordable gym memberships in your locality. Their monthly membership plan is not that expensive, either. It starts at $9.95 a month.
While not all the branches may offer a military discount, some may provide the said assistance. The club provides hour-long sessions of HIIT. It aims at focusing on physical training through managing the heart rate.
Through rowing, cardio, and strength training sessions, one is provided the physique they aspire to. With the best coaches to train, Orange Theory offers fantastic training sessions. You can also download their app to view their sessions anywhere.
Conclusion
Fitness is for all, and the free gym membership for disabled citizens makes it accessible for the greater mass. You can also look for such fitness centers in your locality or register with these clubs to avail of the disability benefits.
FAQs
Can disabled people go to the gym?
Most certainly, Yes!!! There are several gyms that house equipment that are wheelchair friendly. Not only equipment assistance but great help is offered through free gym membership for disabled programs.
What to do if you can't afford a gym membership?
In case you are unable to pay for fitness in gyms, you can look for a free gym membership for low-income citizens programs. And if you do not wish to go to a gym, you can walk, dance, jog, do gardening, or do other outdoor activities to keep fit.
Can I get gym membership coverage?
Apart from free gym membership for disabled, there are other ways to get your membership paid for. Medicare covers gym memberships under exceptional circumstances. You can visit the website to know more.