Free gm membership for seniors is an excellent benefit for their age. Owing to the increasing pressures of life, it becomes utterly necessary to remain stress-free, and there is no better way to relax than to work out.
Several fitness clubs and gyms offer no-cost fitness opportunities to citizens aged 60 and above. Being a gym member and working out regularly can have several health benefits for seniors. Not only does it strengthen the immune system, but it also keeps health issues away.
Brief on Free Gym Membership For Seniors
Free gym membership for seniors is offered under the Silver Sneakers Program.
Several organizations affiliated with the program offer affordable gym facilities to seniors over 65.
Medicaid offers a free gym for seniors but only under particular circumstances.
Free Gym Membership For Seniors Near Me
From helping you aid muscle loss to enabling you to keep loneliness at bay, gyms have many benefits. It has been noticed in older adults that regular exercise has helped stop aging. It also helps improve balance and lets you healthily utilize your free time.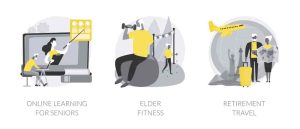 With all these benefits, seniors are also entitled to one more benefit: free fitness facilities. Free gym membership for seniors near me and you enable the elderly to get fit without worrying about paying a single penny.
Silver Sneakers is a membership program specially curated for seniors enrolled in Medicare insurance plans. Over 15,000 fitness centers are a part of this program. Through the program, one can also access various health and fitness classes available nationwide.
You must check your Medicare plan to see if you are eligible for this free gym for seniors program. Seniors who are 65 years or above are eligible for the program. If you are suffering from a disability but are below 65, you can still get the program's benefits.
A Medicare Advantage receiver shall get a basic gym plan through the program. If you are a Medicare receiver that covers the Silver Sneakers Program, then you can get access to all the classes the program offers, that too, free of cost.
The Y has a senior-specific program where they offer their gym membership at a discounted rate to seniors. However, this facility varies depending on the location of the Y. A senior can get an average discount of $5- $15.
A branch in Northwest Florida offers membership at $38.50, which is $6.50 less than the usual $45 per month plan offered to citizens aged 25-64. You might not get an entirely free gym membership for seniors, but you can always avail yourself of these discounts.
You can contact the Y in your city and investigate what kind of discount it offers. If the price is agreeable to you, you can get yourself enrolled.
Anytime Fitness, as the name states, is a fitness center that is open 24/7 and is associated with the Silver Sneakers Program. Through the program, you can get reasonable advantages. The gym has many franchises – some are huge, which can be an excellent place to socialize with a maximum number of people, while others are small and positive, which makes them a place to work out in solitude.
The gym offers strength training programs and yoga classes if your goal is to be fit and flexible together. It also offers a few options for group classes. You can also seek help from a personal trainer if you are unsure about the proper training for your body type.
Offering discounts up to 35%, Onelife Fitness has several franchises. It is affiliated with the Silver Sneakers Program. Unlike Anytime Fitness, you can access the pool here and get toned with the swimming lessons.
The fitness center also offers joint-friendly and low-impact training sessions. You can also use free weights and other equipment according to your need and requirement. If you wish to seek personal guidance, you can sign up for the services of a personal trainer who would recommend age-appropriate workout programs.
One of the most popular gyms that offer free gym membership for students, Planet Fitness also offers a free gym for seniors. The club is a partner of the Silver Sneakers Program, which can get you a major seniors discount.
This discount can amount to getting a free gym membership for seniors at planet fitness. While other gyms offer personal training, PF doesn't believe in it. However, if you need any help, you can seek assistance from the on-site trainer.
Planet Fitness is a great option for older adults due to its relaxed pace and casual environment. Hardly you'll find people around you making a fuss. The franchises are open 24/7, so you can get a chance to enhance your physical abilities.
Does Medicaid Cover Gym Memberships?
Yes, Medicaid does cover gym memberships but only in certain circumstances. Does Medicaid cover gym memberships or not? Depends on factors like location and the kind of services provided. For instance, if you require physical therapy or exercise sessions, then these are facilitated free of cost through Medicaid.
It is important to note that gyms may not offer all the services, but if they do, they must only be offered on a Medically necessary basis. Only if a physician prescribes it can gyms offer their facilities.
Even after that, these facilities are only offered by a licensed provider recognized under the state's Medicaid program. Many states and their gyms must have a licensed physical therapist on their staff to provide Medicaid-covered gym facilities.
How Do I Get Free Gym Membership With Medicaid?
It is quite normal to get confused between Medicaid and Medicare as both are health insurance plans that support their registered members in their medical crises. Medicaid is for citizens falling under the low-income status, while Medicare is especially for older adults aged 65 or above.

Though you can get the benefits of both if you are a senior with low-income status, the insurance plan that has more chances of getting you a free gym membership for seniors is Medicare. These are a few sources that can get you free gym membership with Medicaid.
Silver&Fit is a great option for seniors with Medicaid, though the program works well with both Medicaid and Medicare. Older adults who are still employed and insured through their employer can get the program's benefits.
More than 18,000 fitness centers are affiliated with the program across the nation. You can access almost all of these clubs for free. You can also get affordable boutique studio access, which is cheaper than purchasing a gym membership.
The program also offers on-demand online workout sessions and a chance to get wearable fitness trackers and equipment like dumbbells and yoga mats for home workouts.
Like Silver Sneakers, Renew Active also offers a free gym for seniors. You can register yourself through the UnitedHealthcare website. The program also offers classes to improve mental health. You can access the program's facilities at any of the 22,000 locations, most of which are gyms.
The program also offers local health and wellness classes which help you socialize and meet new people. You can share your progress with the social group through Fitbit, and you don't even have to download the app!!!
Partnered with Rally, an online platform, One Pass is another way to get a free gym membership for Medicaid owners, with an extensive digital reserve of fitness sessions and cognitive and social programs to help seniors enhance the quality of their life.
The program opens 22,000 vistas nationwide to get physically and mentally fit. You can also get on-demand videos of their fitness sessions, join in on live classes, and you can bring a caregiver along to assist you.
This is an employer-offered program, but if you're retired yet still do a part-time job, you are eligible to enroll. However, if you are not working at all, you might not get the program's benefits. You are still eligible to apply through AAA programs.
The catch is that enrollment isn't free; you'd have to pay a fee of $25 a month to begin your fitness journey. With this program, you might not get a free gym membership for seniors, but you can still get a 20-70% discount on a boutique fitness studio.
The Bottom Line
Seniors are a significant part of us, and it's our responsibility to take care of them. Free gym membership for seniors is a great initiative taken by several fitness centers and governmental programs. Seniors above 65 must take advantage of this opportunity and get healthy.
FAQs
What should seniors look for in a gym?
There are several factors on which the quality of the gym depends. If it checks all the boxes and you are comfortable with it, you must say yes to fitness through that gym. You must keep an eye on factors like: Cost, Swimming pools, Atmosphere, Group classes for seniors, Personal trainers, Equipment
Is Planet Fitness good for the elderly?
Yes. Planet Fitness has several benefits for the elderly. Beginning with free gym membership for seniors through Medicare, the club provides an encouraging environment that is not too fast-paced. It is also open 24/7, making it convenient for older adults to hop on the fitness train anytime they wish.
How do I get a free gym membership with Medicare?
Normally, the federal government would not allow this, but under special circumstances, you can get a free gym membership with Medicaid and Medicare. Several programs affiliated with the insurance plan can lead you to free gym for seniors.