National non-profits and local agencies like the Salvation Army and St. Vincent de Paul offer free beds for adults. Low-income families often find it hard to make ends meet. Buying new furniture in such a situation can be challenging, which is why these programs can help you get every piece of furniture, including free beds and mattresses.
Along with the above-mentioned organizations, there are other ways to get a free bed. To learn about them, read along!!!
National Free Beds For Adults Programs
Free beds are easier to get with these national free beds for adults programs. These programs are mostly run by non-profit organizations that have their branches in all the states. Here is a list of all the organizations that can help you with a free bed: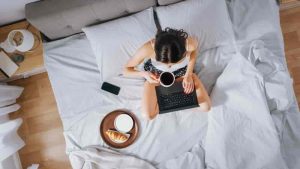 1. Love Inc
Love Inc. has a Rescue Mission program that provides free beds for low-income families. You must go through a case management process.
This is a limited free furniture program, so only eligible applicants will receive a brand-new bed. The organization offers assistance for all basic needs, but the eligibility and kind of assistance may vary by state.
2. Sleep in Heavenly Peace
While the organization doesn't offer free beds for adults, you can still get help with no-cost beds for children. You can apply for the SHP Twin Bed program to get comfortable beds for your kids.
The organization does not offer help on a first-come, first-served basis; it provides resources to those who need it the most.
3. Saint Vincent de Paul
St. Vincent de Paul is one of the most popular charity organizations that works in collaboration with numerous other charities and faith-based organizations to help those in need. This group of organizations offers help with various services, including free beds for adults.
You can visit their official website and look for a local chapter nearby that can help you get a comfortable bed for yourself.
4. Furniture For Families
Furniture for Families mainly works toward providing no-cost furniture to low-income adults. When income isn't your strongest suit, you can reach out to them to get help with adult-sized beds.
The Human and Social Service Agency administers this system with the help of the FFF referral form. You are required to provide your FFF count to the case manager, who will determine your eligibility for free beds that will be completely new.
5. Samaritan House
Based in New York, Samaritan House is a non-profit that can help you with free beds for adults. Along with this useful resource, you can also get assistance with the purchase of other furniture items.
The program is not a one-time thing. You can seek help from them at least twice a year, at an interval of six months. You can visit their official website to learn more information about the assistance program.
6. The Prism
Prism is a society for the needy. It offers less fortunate citizens shelter, food, finances, and furniture. The organization is location-based, meaning only Golden Valley, Robbinsdale, Crystal, New Hope, and Plymouth residents are eligible for the help offered.
7. Red Cross
The American Red Cross assists in disaster situations by providing essential items to affected individuals. Every year, several states in the U.S. are hit by disasters, causing a lot of damage to households.
While being a victim of such natural disasters, you can also apply for help. You can also get a free bed if you consider it essential.
8. The Salvation Army
The organization is a renowned non-profit charity that offers its helping hand to seniors, single parents, disabled people, low-income families and individuals, and veterans.
The Salvation Army helps people in need by providing furniture and beds through its various programs. The organization also offers alternative bed solutions during health crises. You can look into the matter by visiting their official website and reviewing their grant programs.
9. United Way
United Way supports a variety of local service providers and may connect individuals with resources for furniture and beds. United Way also has "Free Bed" funds at hospitals. These funds are special donations that hospitals receive to provide free care to patients who can't pay for all or part of their hospital stay. Eligibility for assistance from these funds is left to the discretion of the individual hospitals.
10. Goodwill Industries
Goodwill has more than 3,200 thrift stores across the country. They offer free furniture pick-up before, during, or after a move. You can purchase an affordable bed from these thrift stores.
Often, there are sales and discounts on the items; you can keep an eye on such sales to get the best offers from Goodwill Industries. There are high chances of getting free beds for adults through these sales.
Who Is Eligible for Free Beds for Adults Programs?
As the name suggests, free beds for adults programs offer free beds to adults, but that is not the only criterion. Every program has its own set of rules that one needs to follow in order to get a good night's sleep.
While income is one of the most common criteria, there are other areas through which you can get preference in these programs. Being homeless, a senior, a single parent, or a disabled can put you ahead on the beneficiaries list in these programs.
A referral can help you a lot, too. There are high chances of getting free furniture when you are referred by a social worker.
How Do You Get Free Beds for Adults Locally?
Applying to national programs for assistance with furniture can take a long time to show results. There are significant chances of you not receiving help from these programs due to ineligibility or unavailability of the resources. This is why you must also look out for local resources.
Hostel And Apartment: Students who rent an apartment or live in hostels for their academic terms purchase items according to their needs, and once their terms are over, they leave the place and the items behind. You can contact such students and strike a deal with them to get a free bed.
Thrift Shops And Furniture Stores: Thrift shops and furniture stores change their displays every now and then. You can ask them to give you the discarded furniture for free.
Flea Market: The Sunday Flea Markets are a great way to get free stuff. You can look for things that best suit your needs and strike a profitable deal.
Classifieds: Newspapers are considered outdated, but they can still be useful for people looking for affordable items. You can review the classifieds for free furniture, specifically free beds.
Yard Sales: While this is a rare sighting, you can try your luck and check out the garage sales nearby.
People Also Ask
People often inquire about low-budget or budget-friendly furniture sources for the entire family, but not all questions are answered. Here are the three most frequently asked questions regarding free beds for adults and their answers:
Is a single bed suitable for adults?
Opting for adult single beds instead of double or king-size beds can help you make the most of your precious, unshared space and leave room for other items and hobbies.
Are there any online websites that can help me with free beds for adults?
Yes, you can try out some of the websites of the organizations that offer free beds. You can also visit websites like Craigslist and Freecycle, where you can get beds at a much cheaper price.
Can I get a brand new bed from the Flea Market?
Getting a brand new bed from Flea Market is not possible. You will only be getting used furniture from this market. But do not worry as the furniture looks quite new and is in good shape.
The Bottom Line
There are many organizations that offer free beds for low-income families and kids, but there are not many agencies that offer free beds for adults only. Luckily, the above-mentioned programs and organizations prioritize an adult's sleep and offer these resources to those most need them. You can personally visit them or reach out to them virtually for further details.